Hamster bin cages found in pet stores are usually expensive, too small, and designed with metal bars. If you want to save money, get a spacious cage, and get rid of metal bars, a DIY hamster bin cage is maybe for you. Aside from being cheaper, you can choose the materials that you're going to use, and the design of the bin cage according to your liking.
Basically, you can customise it however you like. There are only a couple of things that you need to know and various factors to consider for the hamster cage to be durable and livable.
I will also give you some tips on how to turn a plastic box into a bin cage for hamsters. Such as design, adding ventilation, where to cut the box properly, and so on.
RELATED POSTS: Basic hamster supplies and tips on Syrian hamster care
WHAT TO KNOW ABOUT HAMSTER BIN CAGE
Let's talk about the basics first. If you haven't bought a storage box yet, this part will help you decide which one to get or if a DIY hamster bin cage is even suitable for you and your pet.
What is a hamster bin cage
Simply put, a clear bin or plastic storage box turned into a suitable and safe hamster cage. The bin must be clear because, in that way, you could monitor your pet. You will modify it to be a safe, suitable, and secured cage for your hamster. 
ALSO READ: Types of hamster cages
How big should a hamster bin cage be
For Dwarf & Chinese hamsters, it is 620 sq in which is equivalent to (4000 cm2) – 39x20x20 in (100x50x50 cm). For Syrian hamsters, you need at least 850 sq in or (5000 cm2). You need a bigger cage for Female Syrians: 47x31x31 in (120x80x80 cm). While here is the cage size requirement for male Syrian: 40x24x24 in (100x60x60 cm). 
How much is a hamster bin cage
The price hamster bin cage or storage box, it's between $80 to $120. That is significantly cheaper compared to a store-bought suitable hamster cage which is between $150-$200, for a glass tank, it's about $200 and up.
ALSO READ: Best glass tank hamster cage and best bookcase hamster cage
How to choose a bin cage
Aside from the size, make sure that you purchase storage boxes with even surfaces. Also, avoid choosing storage boxes with wheels because your hamster can chew on the corners or bumps which could result in creating a hole. They can then use the hole to escape. A storage box with a snap-on lock on the top will definitely be a good feature.
The bigger and deeper the better
The hamster bin cage should be wide and a bit tall, the bigger and deeper it is, the better. If you made a big cage, you can add more toys and other amenities apart from the basics mazes, a nail salon for trimming your hamster's nails, and even a designated litter area.
Since hamsters love to burrow, you can create deeper bedding. You could even add safe stairs or platforms that your hamster could climb on. Just make sure that it is far from the lid to prevent them from using it as a means of escape.
RELATED POST: How to choose the best big hamster cage
TIPS ON DESIGNING A HAMSTER BIN CAGE
We mentioned earlier that sky's the limit when designing a hamster bin cage. Before starting on creating the bin cage, some things that you need to consider include it having proper ventilation, using non-toxic glue, and using metal screws when attaching some parts. These will all be tackled in this part of the article.
Before we move forward, here are some hamster bin cage ideas that you could do once you have all the necessary items and have met all of the requirements of an appropriate cage bin. You can use a hamster cage divider to maximise the enclosure's space for extra toys and enrichment.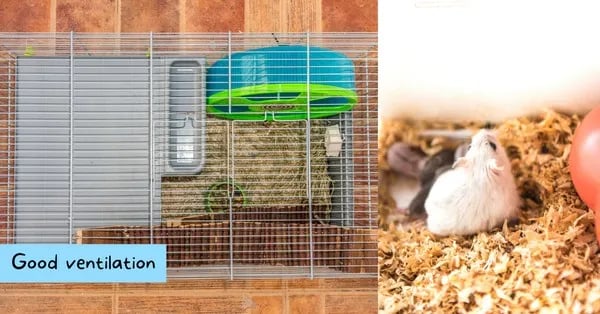 Cage Theme Ideas
Creating a DIY hamster bin cage allows you to be more creative too. The theme of a cage is very common nowadays. Not only does your pet enjoy it but it's also aesthetically pleasing to the people who see it. Some cage ideas include beach, outer space, forest, desert, garden, and ocean, among others.
You may notice that most of the themes are about nature. It's easy to incorporate a healthy diet and toys made of wood in these themes. Having a nature-themed hamster cage, you can live with safe plants, add a tree branch, and use wooden toys without making them look out of place. Now that you have some design ideas, let's proceed with the things to consider when designing a hamster bin cage.
Ventilation
For the cage to be liveable, the most essential part to consider is the ventilation. To have proper ventilation, cut the top cover at least 4 inches from the frame. Then, using a mesh, cover the top and attach it in place with screws or zip ties.
One of the common mistakes being made is cutting the sides of the box to add mesh. I know it's a good idea for more ventilation and will allow you to see your hamster inside the cage better. However, at the same time, your hamster might start chewing the mesh and create an escape hole.
If you want to add more mesh for ventilation, place them near the top and make sure there are no platforms where your hamster can stand on and reach those mesh.
Use edible glue
When using glue, make sure that they are non-toxic because there is a tendency that hamsters would be able to chew on them and ingest the glue. The safe glue types to use are white glue gun sticks and white bottled glue. Make sure to read the label if it's edible or safe to eat. Most of them should have a text that says safe for kids or something along the line.
Also, spread the glue thinly to prevent creating bumps.
Use metal screws
When attaching a water bottle, running wheel, or mesh cover, the most appropriate material to use is the metal screws because this will prevent the hamsters from chewing them. It's also much durable and sturdy. Plastic-based connectors like zip ties are easy to gnaw and break.
BEST STORAGE BOX TO USE FOR HAMSTER BIN CAGE
In this portion, we compiled a list of our favourite storage boxes. Read carefully the sizes, as some of them are too small for Syrian hamsters. To be honest, it's a little hard to find storage box sizes that are big enough for a Syrian hamster. They are not usually available online, it will be much easier if you visit or contact DIY hardware shops instead or check with Walmart and IKEA.
HEMUS Storage Box 100L
Aside from being effective storage, this plastic box could be turned into a hamster bin cage easily. It is made with thick transparent plastic and is available in 4 sizes. Which is perfect for modifying it into a hamster bin cage. This box comes in different sizes but we only recommend the 100L and should only be used for Dwarf hamsters.
Size: 100L – 24 x 16.73 x 14 in / 61 x 42.5 x 35 cm
HOMZ Storage Bins 112 quart
This storage bin has a 112-quart storage capacity. It is made with durable plastic that will surely withstand ongoing use. The storage is also see-through, which would make hamster monitoring easier. The set includes two clear plastic lids and 2 clear plastic bins.
Size: 28.75 x 16 x 18. 25 in / 73 x 40.64 x 46.35
IRIS USA Storage Box 132 quart
This storage box can accommodate 132 quarts of storage capacity and is BPA-free and green circle-certified, which is a certification for products that are made with environment-friendly materials. 
Size : 16.75 x 24.50 x 16.56 in / 53.2 x 73.4 x 44.8 cm
Sterilite Latch Box
This next storage box set is perfect for those who want to have durable bin cages. I recommend the 116-quart storage capacity. You can also purchase it in a set of 4 or 6. This product is great for those who have multiple hamsters and therefore need multiple bin cages or those who would use the remaining storage boxes for other purposes.
Size: 33 x 20.13 x 13.5 in / 84 x 51 x 34.29 cm
 Rubbermaid Storage Containers
Just like the product above, these storage boxes can be bought by set. They are available in 12 sizes but the biggest one is the only decent option, which is in the 91-quarts size. These storage boxes are shatter-free and have a straight wall tote design.
Size: 29 x 17.75 x 13.25 in / 73.6 x 45 x33.6 cm
VERDICT ON THE BEST DIY HAMSTER BIN CAGE
I personally believe that HOMZ 112 quart storage bin is the best DIY hamster cage bin one on this list. It has a smooth wall, a really tall heigh, and a nice and secure lock on the top.
On the other hand, IRIS USA 132 quartz is also a good choice, it's a bit wider which means you can have multiple areas for food, play spot, sandbox, and sleeping quarters.
FINAL THOUGHTS
Now that you're familiar with creating DIY hamster bin cages out of storage boxes. Here are some more tips on setting up the cages. Clean the bin first using a scent-free mild soap with warm water, don't use too much soap, we are only removing the dirt and plastic smell of the box. 
Make a simple drawing of the design style you want and how to attach them. For example, if you want to attach a water bottle instead of using a stand for it, how do you want to latch them on. 
Place bedding of at least 5 inches for Dwarf hamsters and 8 inches for Syrian hamsters. You don't need to place bedding in the entire bin cage, only 1/3 part is enough and place the hideout there. You can use stones or a wooden bridge as a divider. You could use aspen shavings or paper bedding without scent and avoid pine or cedarwood.
I hope that you found this article about the DIY hamster bin cages helpful. If you have other tips for creating the best bin cage for hamsters, let us know in the comment area below.
TO READ THIS POST LATER, SAVE THIS IMAGE ON YOUR PINTEREST: