If you're thinking of buying a pet hamster, there are a lot of things that you should consider, such as the kind of hamster to get, how big their cage should be, and even the type of feeder to get. In this blog post, we'll focus more on, maybe, one of the most favourite accessories of hamster kind– hamster food bowl, automatic hamster feeder, whatever it is that holds their food in one place.
We can all agree that food presentation is the least of your critters' concerns (because, most probably, it is more important that they get to munch on their food) and more of the preference of us hamster owners, our lifestyle can affect that choice.
That said, we won't tell you which one is better; instead, we'll talk about the pros, cons, and everything in between of both conventional hamster bowl and automatic hamster food dispenser. Let's dive right into our subject matter.
MUST-READ: Best hamster food and diet; dry and treats
WHAT TO KNOW ABOUT HAMSTER FOOD BOWL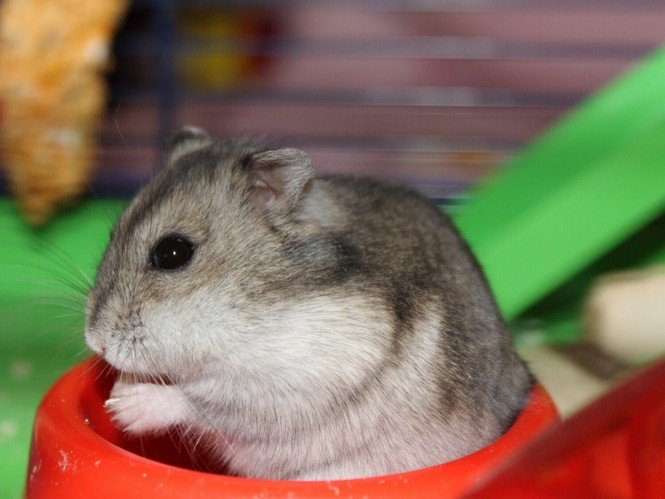 Believe it or not, deciding to buy something as necessary as a hamster food bowl has several considerations to keep in mind. We'd like to think of the material it is made out of, the size, and even the lifestyle of us owners. Let's learn more about these:
Material
Choosing a ceramic or glass hamster food bowl over the ones that are made out of plastic material is the practical choice because glass and ceramic are sturdier than plastic and your hamsters' chewing habit won't have much of an effect.
Ceramic and glass food bowls are also the better choices over wooden ones because moulds can grow on wood over time, which can produce undesirable odour, and worse, might cause your little critters harm.
Size
Hamsters need as much space to run around as possible. That said, you don't want your hamster food bowl to eat up space. Hamsters are quite active in their waking hours, so you want them to have enough space to play around. A food bowl of 4x3x4 in (10.16×7.6×10.16 cm) should suffice.
Pros of a hamster food bowl
Hamster food bowls have their advantages. Here are some of them:
being able to personally attend to your hamsters' needs help form pet-owner bond
ceramic or glass food bowls are sturdier and will last for a long time
you control the amount of food you give your hamsters
you can use the same kind for hamster food and water bowl
easy to clean
Cons of a hamster food bowl
On the flip side, there are a couple of disadvantages, especially if you are a very busy person, such as:
you will not be able to go out on vacation or attend an urgent matter that requires you to leave your home for an extended period of time because the food bowl will need to be replenished often
you have to regularly fill up their bowl
WHAT TO KNOW ABOUT AUTOMATIC HAMSTER FEEDER/HAMSTER FOOD DISPENSER
An automatic hamster feeder is a type of feeder that automatically refills its bowl so that we, owners, won't have to give food to our critters as often as when using an ordinary hamster food bowl. It's great if you cannot always personally feed your hamsters.
But, of course, you shouldn't just buy an automatic feeder without doing knowing its pros and cons. That being said, here are some of the things that you should consider before making your purchase:
Pros of an automatic hamster feeder
For some reason, it is almost always better to start with the positive things before going to the negatives, so let's talk about some of the advantages of using an automatic hamster feeder:
you can go out for an extended period of time without having to worry about your hamsters going hungry
you won't have to always keep an eye on their food as an automatic hamster feeder will take care of the refilling for you
it can be attached to the cage so it cannot be moved by your pets which means avoiding spillage and food waste
most automatic feeders' food storage last for up to a week
Cons of an automatic hamster feeder
We've known some of the advantages, now let's go to the things that are the least desirable about automatic hamster food dispensers to help you make a decision:
automatic hamster feeders are usually made of plastic material, we all know that hammies love biting things, which may not be suitable for stuff made of plastic
While you can adjust the amount of food being dispensed by most automatic feeders, you won't be able to control the amount of food your hamsters eat
Your interaction with hamsters will become less frequent, which means it might take longer for your pets to get used to your presence
BEST HAMSTER FOOD BOWLS
Now that we've talked about the things that you should know about hamster food bowls, it's time to give our recommendations based on the considerations we've mentioned earlier. So, without further adieu, here are some brands of small pet food bowls you should consider buying:
Niteangel Wooden Food Bowl
Niteangel's food bowl is made of beech wood, so if your hamster chews it, it's a win-win for trimming its teeth. They also offer 2 different sizes – for Syrian and for Dwarf/Chinese hamsters.
The size is about 3.2 inches in diameter and 1 inch tall (7.8 cm and 2.5 cm). The best feature is how heavy it is, meaning your hamster can't just flip it over spilling all the dry mix out.
Living World's Food Bowl
The good thing about Living World's Food Bowl is that it is designed with small pets in mind. Its slanted style makes it easier for your hamsters to eat, and it won't strain their neck. It is made from non-porous ceramic material so it is durable and won't be a breeding ground for bacteria.
We recommend getting the small variant with a measurement of 3.5×3.5×1.5 in (8.89×8.89×3.81 cm), which is small enough that it won't take up much space from the cage.
Ethical Stoneware (3 inch)
Ethical Stoneware's food bowl can be used for cats, small dogs, and other small animals. Its small variant measures 1.5x3x3 in (3.81×7.62×7.62 cm) is just the perfect size for hamsters. It also comes with several designs, so you can select which design matches the design of your hamsters' cage.
Kaytee Bowl
Kaytee Bowl's hamster food bowl is made from high-quality ceramics that are chew-proof, so it'll last for a very long time. It comes with a variety of colours and designs which will make your little hamsters' cage colourful.
The size of these bowls is 4.5×4.5×2.2 in (11.43×11.43×5.58 cm) which is great for small animals such as hamsters and other rodents.
Living World Lock and Crock Dish
What makes this food bowl different from the others is its crock-style dish is that it can be attached and detached to and from your hamsters' cage. The size is 2.3×4.7×9 in (5.84×11.93×22.86 cm), and it won't take up much space from the cage.
It is made from a special plastic that is chew-proof and as durable as the ones made from ceramics or glass.
2-IN-1 Food Bowl and Water Bottle
This product is 2-in-1, it serves two purposes: to feed your hamsters and to keep them from getting thirsty. This two-in-one product measures 7.3×6.3×3.1 in (18.5x16x7.87 cm). Its water bottle can be detached from the base and attached to the cage if you like.
BEST AUTOMATIC HAMSTER FEEDER
Now, if you're thinking of going for an automatic hamster feeder instead of an ordinary pet bowl, then here are some of the brands worth considering:
Kaytee Food Dispenser
Kaytee Food Dispenser has a unique dispenser design called the Gravity Feeder which features a sifter floor that prevents the dust from hamster pellets from being inhaled by your pets which protects them from lung problems.
Up to two pounds of food may be stored in this dispenser, which is enough to last up to 5 days. It is designed so that it can easily be attached to any type of cage, making its installation a breeze.
Kaytee Critter Trail Food Dispenser
If you're using a modular type of hamster cage, then this dispenser is what you'll need; it can be connected outside a modular cage which will save up space allowing your little pets a more significant area to play at. It is also compatible with any modular-type cage brand.
Lixit Automatic Feeder
If you are using aquarium cages, Lixit Aquarium Feeder is the one you'll need because it is made explicitly for aquarium-type cages. It comes with a hanger so you can hang it on the corner or the sides of your aquarium. It is designed to minimize food waste. Also, it is easy to remove if you need to clean it.
Old Tijjko Feeder
Old Tijjko Feeder can dispense not just food but also water. It is designed to prevent contamination of food/water because it won't dispense its content until your pets consumed the content of the bowl. It can easily be firmly attached to the cage, and it won't easily be removed or displaced by your hamsters.
SHOULD YOU USE AUTOMATIC HAMSTER FEEDER OR TRADITIONAL HAMSTER FOOD BOWL
And finally, to answer the question of whether you should use an automatic hamster feeder or the traditional hamster bowl: I personally think that you can have both.
The reason is that you can still personally give your hamsters' food when it's their feeding time using a hamster food bowl, and you'll have the flexibility and freedom to go away for a couple of days with an automatic dispenser. In short, they complement each other, depending on the owner's needs.
VERDICT ON BEST HAMSTER FOOD BOWL AND HAMSTER AUTOMATIC FEEDER
Living World food bowl is a great one, since it's ceramic-made, your hamster won't trip it over. But if you want to attach the bowl on the bar cages, Living World Lock & Crock dish is awesome.
Lixit automatic feeder and Old Tijjko feeder are both great that will keep the dry mix from getting stale while making sure your hamster have food for a while especially if you are them for a few days alone.
And that's about it! I hope that we've helped you make the decision on which feeder to buy. If you have any questions, suggestions, or if you want to add something that you think will help your fellow readers, don't hesitate to leave your comments below. Take care now!
TO READ THIS LATER, SAVE THIS IMAGE ON YOUR PINTEREST: