Tired of getting behind with your hamster to-do list? Or sick of reminding your kid to clean the hamster cage or feed their pet?
Let's make this being a hamster parent more organised and teach your kids how to be responsible for their pets
Get our Printable Two-Month Hamster Task Planner to Stay Organised
A printable two-month planner to help you organise hamster tasks. From daily to-dos, monthly chores, and even a space for a shopping list whenever you are low on supplies. This planner is colour coordinated and easy to follow
You can read the full description here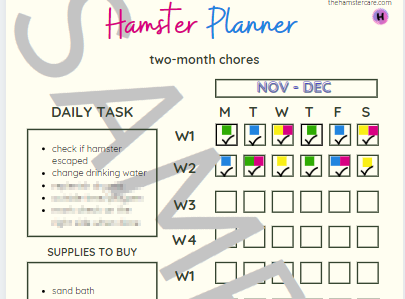 Affordable
Just for $2, you can use this planner all-year-round as long as you want
Ready to print
The planners are ready to use and print right after the purchase
Colour coordinated
Colour coded planner that is easy to follow/use both for kids and adults
WHO CAN USE THIS PLANNER?
✔ Busy Adults
Busy adults who need to stay on top of tasks to maintain a clean, healthy, safe environment for their hamsters
✔ Children
Children who are learning to be responsible for their hamsters. If you are a parent teaching your kids to be more responsible, this is a fun way to teach them how to do their hamster tasks
✔ Any kind of pet owner
Either you have a hamster or not, this planner can be used by any pet owner, there are 3 templates to choose from that you can easily customise regardless of what kind of pet you have